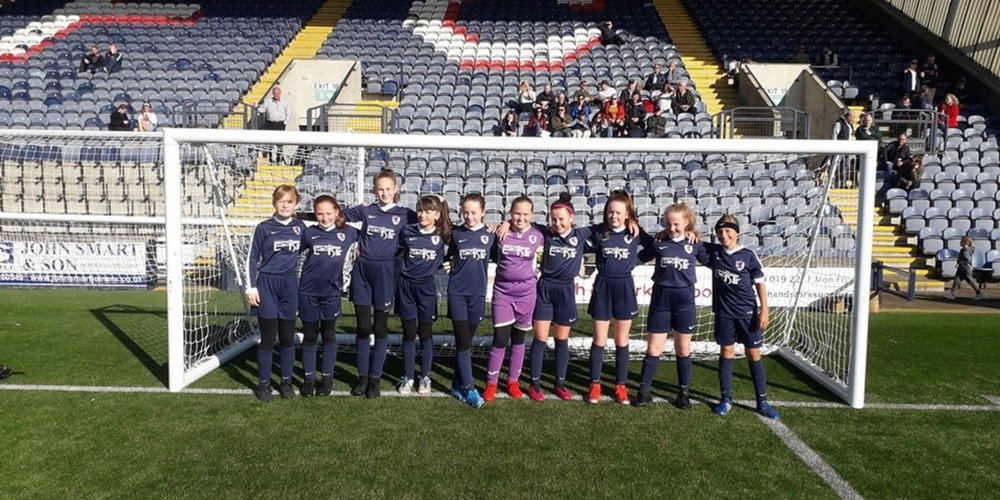 For our Raith Raiders match yesterday morning against Dryburgh, it really was that old cliché, yes, a game of two halves.
The girls got their first opportunity to play in the grand Stark's Park and along with it came not only an experience, but a real cracking game of football that had everything including a knocked off goal that went straight in from the oppositions throw in.
Dryburgh started off the brightest and took an 8th minute lead after what would constantly be a thorn in Raiders side, the constant long throws into the box to create confusion and mayhem.
Raiders only took a minute to get the equaliser as Lucy struck home after good direct play.
When the ball was on the ground, defenders Calla, Kelsey and Casey did well to put the blocks on Dryburgh and if they did get through, Aimee was on hand with some really fine saves.
However the problem was the ball in the air which gave Raiders difficulty and led to Dryburgh going in to half time 4-1 up, which could have been 6 had a penalty been converted and if any player got a touch on the end of the long throw in instead of going straight into the goal.
The second half belonged to the Raiders girls as they played their football that we are used to seeing from the girls. The move of the game came after a pass from Lucy found Olivia who played a sweet through ball to Hannah who took a lovely touch to get herself between the ball and defender and strike an unstoppable shot into the top left corner to the delight of her team mates and watching crowd.
This inspired the girls and gave them a much needed lift as Sienna and Natalie looked to feed in attackers Hannah and Christina to try and get a third. Even defender Calla strode forward and struck a venomous shot only to see it crack off the bar. A free kick to Raiders looked to have given them that elusive third after Olivia hit a cracking shot that was going into the top corner until a Dryburgh head popped up to knock it out for a corner.
A constant flow of attack from the Raiders eventually got that third goal after Natalie found space on the left side and decided to whack it with her left peg which nestled into the top corner.
4-3 and two minutes to go, Raiders pushed until the final whistle and almost snatched that equaliser with the last kick of the game but Christinas shot went agonisingly wide.
What a game and what an advert for the girls game. Both Dryburgh and Raiders deserve massive credit for putting on a great show at Stark's Park. An experience and a game to remember.

Full Time Raiders 3 Dryburgh 4
Back to news